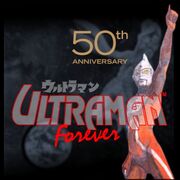 In commemoration for
Ultraman
's 50th year anniversary durring 2014, Thailand based company
Chaiyo Productions
plans to release a 6-season boxset, more than 325 episodes, of the Ultraman series in the United States. The official site is now taking reservations. The boxset includes
Ultraman
(1966–1967),
Ultra Seven
(1967–1968),
The Return of Ultraman
/
Ultraman Jack
(1971–1972),
Ultraman Ace
(1972–1973),
Ultraman Taro
(1973–1974), and
Ultraman Leo
(1974–1975). So far, no release date and price had been announced as of writing. Other products listed on the official
Ultraman Forever
website are a
50th Anniversary Collector's Book
, a collection of
Classic Ultraman Action Posters
, and a catalog of
Tohl Narita
's original
Ultraman Art Collection
.
External links
Ad blocker interference detected!
Wikia is a free-to-use site that makes money from advertising. We have a modified experience for viewers using ad blockers

Wikia is not accessible if you've made further modifications. Remove the custom ad blocker rule(s) and the page will load as expected.