Ultraman Joneus
Comments

3
1,382pages on
this wiki
Ultraman Joneus

Human Host:
Choichiro Hikari
Height:
70m-120m
Weight:
50,000 tons
Age:
28,000 years
Home world:
Planet U40
Voice actor(s):
Masatō Ibu (伊武 雅刀 Ibu Masatō?)
Suit actor(s):
??? (Ultraman Kaiju Daikessen)

Animated (The Ultraman)

First Appearance:
The Ultraman Episode 1:"Birth Of A New Hero!"
Last Appearances:
TBA
Number of Appearances:
N/A
Race:
Ultra
Status:
Alive
Family:
Ultraman Elek(brother in arms),
Ultraman Loto(brother in arms),
Six other unamed brothers in arms,
Amia(sister)
Affiliation:
Scientific Defense Guard
People of U40
Ultraman Joneus (ウルトラマンジョーニアス, Urutoraman Jōniasu, Ultraman Joneus ?), is an Ultra featured in The Ultraman anime series. Unlike the other Ultras, he hails from Planet U40. He is also known as Ultraman Joe, and Ultraman J (standing for Joe). His human form is named Hikari Choh-ichi.
History
The ☆ Ultraman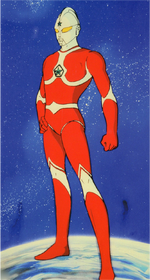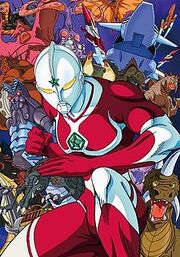 A being from the planet U40, Ultraman Joneus was sent to protect earth from danger. On the way, he merged with the human Hikari Choh-ichi. Ultraman Joneus was successful in protecting Earth from various monsters and aliens. After defeating the evil Ultrabeing Hellar and his army, Joneus separates from Hikari and is rewarded by becoming a normal human.
Profile
Height:229 feet, 70 meters
Weight:50,000 tons
Flight Speed: Mach 8
Jump Height: 100m
Running Speed: N/A
Techniques
Planium Beam - The Beam attack, in one form he throws and energy ball, in the other form he shoots an energy beam.
Locking Spark - A powerful version of the Planium Beam
Astro Beam- A beam from his Astro Spot.
Star Beam- A star-shaped beam from his Astro Spot.
Boomerang Guillotine- A crescent-shaped beam slashing beam.
Ultra Laser Shot- Energy bullets.
Little Beam- Shrinks monsters.
Ultra Spinning Flash- His body starts to spin and fires continuous energy bullets.
Ultra Stopper- Makes monster's moves stop moving for a while inside a barrier.
Ultra Eyes- A clairvoyant ability.
Ultra Medical Power- A ring-shaped beam.
Super Magma- A powerful beam of planium energy and the Super Magma Energy Capsule.
Ultra Body Screw- A drill attack that is done while flying.
Ultra Barrier Case- Seals a monster in a energy barrier.
Barrier Gas- Seals a monster in a barrier of gas.
Defense- A energy barrier.
Ultra Barrier- Another energy barrier.
Space Mirror Barrier- Another barrier made of energy.
Ultra Thaw- Ultraman Joneus heats up his body.
Teleportation- Vanishes and appears in another place.
Energy Infusion- Transfers his life energy.
Human Host
Transformation
Choichiro removes the Beam Flasher from his belt, and then holds it to the sky where it seems to absorb energy, possibly from the sun. He then places the Flasher on his forehead and transforms into Joneus.
Trivia
Of all the Ultras with a time limit on Earth like planets, Joneus has the longest time at four minutes.
The red and white Ultra was originally known simply as Ultraman to the humans but it was later learned that Joneus was his real name.
He is alternately known as Ultraman Joeneus or Jonias.
Ultraman Joneus was the first anime Ultraman show in the whole series.