Bandai
Ultra Hero Series 2005
Ultraman Max (2005)

Release Date: July 9, 2005
Price: 700 yen
Materials: PVC
JAN/ISBN: 4543112329516
Ultraman Max is first released as an Ultra Hero Series 2005 figure. Like most Ultramen figures, he sports 3 points of articulation on the shoulders & waist, and he was primarily casted in red soft vinyl plastic, and sports silver, gold & some yellow & blue paint operations. He also comes with a collectible data card.
The figure was initially released in a different packaging, but in limited numbers, to commemorate the series' premiere.
Ultraman Max ~Max Galaxy ver~ (2005)

Release Date: October 29, 2005
Price: 700 yen
Materials: PVC
JAN/ISBN: 4543112349125
A retool of the Ultra Hero Series Ultraman Max figure, he features a new right hand, which includes the Max Galaxy device.
Ultra Hero Series (2009)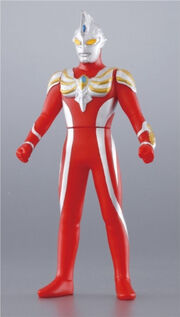 Ultraman Max (2009)

Release Date: November 28, 2009
ID Number: 34
Price: 800 yen
Materials: PVC
JAN/ISBN: 4543112593979
Release as part of the Ultra Hero Series Renewal lineup, this Ultraman Max is a new mold with similar proportions to the original UHS2005 toy.
HG Series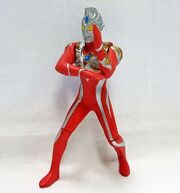 The Strongest! The Fastest! Ultraman Max Arrives! (Part 45, 2005)

Release Date: July 31, 2005
Price: 200 yen
JAN/ISBN: 4543112338679
Materials: PVC
Released as part of the 45th lineup of the mainline HG Series Ultraman line, this Ultraman Max figure is a small capsule figure. He was molded in his Maxium Cannon stance.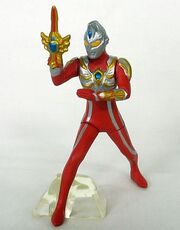 A New Power (Part 46, 2005)

Release Date: October 2005
Price: 200 yen
JAN/ISBN: 4543112347244
Materials: PVC
This Ultraman Max figure is another new mold, this time with a molded Max Galaxy on his right arm.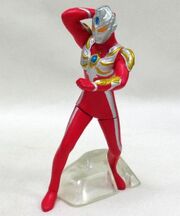 The Untargeted City (Part 47, 2006)

Release Date: February 14, 2005
Price: 200 yen
JAN/ISBN: 4543112383945
Materials: PVC
Another Ultraman Max figure is released as part of this assortment, now molded in his "Preparing to launch his Maxium Sword" stature.
Ultra-Act
Ultraman Max (2012)

Release Date: August 31, 2012
Accessories: 2 pairs of hands, 1 right hand (for Maxium Sword), Maxium Sword, Max Galaxy, Effect parts (Galaxy Sword, Maxium Cannon), Color Timer, back piece
Ultra Hero 500
NOTE: All Ultra Hero 500 figures are compatible to DX Ginga Spark.
Ad blocker interference detected!
Wikia is a free-to-use site that makes money from advertising. We have a modified experience for viewers using ad blockers

Wikia is not accessible if you've made further modifications. Remove the custom ad blocker rule(s) and the page will load as expected.