Why is this bad?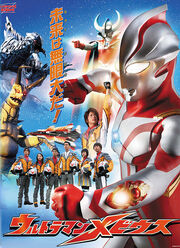 Ultraman Mebius (ウルトラマンメビウス Urutoraman Mebiusu?) is a the 19th entry in the long-running Ultra Series, produced by Tsuburaya Productions and Chubu-Nippon Broadcasting. It premiered on the Tokyo Broadcasting System on April 8, 2006. Unlike the two prior entries, Ultraman Nexus (2004) and Ultraman Max (2005), Mebius was moved from Saturday mornings to Saturday evenings at 05:30. "Mebius" is the Japanese approximation of Möbius; the Möbius strip is a recurring motif in the series. The show aired in Korea in April 2012, and began streaming on Crunchyroll in October, 2014.
Series Overview
The show is about Mebius, a rookie warrior, who is sent to Earth by Father of Ultra. There are many tributes to past shows: it is a continuation of the Showa Era's, picking up twenty years after Ultraman 80.
In the opening, all the members of Crew GUYS are killed except Ryuu Aihara, by the space monster Dinozaur. Mebius, in his human form as Mirai Hibino, transforms to fight, after helping several people rescue bunny rabbits. He later recruits them to help Ryuu, and ultimately they join GUYS, setting the stage for the rest of the show.
GUYS
Main article: GUYS (Guards for Utility Situation)
GUYS JAPAN Staff Members
GUYS OCEAN
GUYS Ocean is the aquatic branch of GUYS. They appeared in episode 38. They made their first appearance in the sub-jet, Seawinger. Their headquarters is located in the massive submarine, the Blue Whale.
Hiroshi Isana (勇魚 洋

Isana Hiroshi

?

): He is the commander of GUYS Ocean, posing as an outcast when he first met CREW GUYS Japan. He is also a former member of Chief Maintenance Araiso crew, before he decided to apply as a pilot. He had heard rumors that Ultraman Mebius had joined CREW GUYS as a human and set out to find out who he was. He came upon discovering Mirai and Mebius are the same by only coincidence (he saw Mebius appeared from the jet Ryu and Mirai is in and he realized that the wound on Mirai's chest is also the same part where Mebius got hit by a monster). He also left them a little note with his farewell gift, saying that they should be more careful with what they say in their cockpits as he had heard them.
GUYS General Headquarters
GUYS General Headquarters is a central part of GUYS in New York.
Others
Ultraman
Introduced
Ultraman Mebius (ウルトラマンメビウス

Urutoraman Mebiusu

?

):The rookie hero of the show, in the beginning he is inexperienced and naive. He desires to meet humans in the opening of the series, and soon gains many friends.
Ultraman Hikari (ウルトラマンヒカリ

Urutoraman Hikari

?

): An expert swordsman, Hikari is a scientist who once studied Arb, a planet with sentient beings. When Bogal attacked he could not save it, and traveled to earth in the Tsurugi armor for revenge.
Other
Arsenal
Base
Phoenix Nest (フェニックスネスト

Fenikkusu Nesuto

?

) - It is the base of GUYS JAPAN. The base keep digital records from previous defense organizations (SSSP, TDF-UG, MAT, TAC, ZAT, MAC, UGM) which can be retrieved by clicking at their respective on-screen insignia. Unlike several past bases, it has various functions as carrier base. It changes and flies to Flight Mode. Flight Mode makes its first appearance in episode 26. Flight Mode uses the Dimensional Dissolver beam of METEOR which closes the gate of a different dimension semipermanently, and Phoenix Phenomenon which destroys the time-space wave generating equipment. It was greatly damaged by Alien Empera.
Phoenix Nest also obtained facilities that the crewmen required to stay healthy. This includes a cafeteria, swimming pool, a gym and even a football field.
Ships
Equipment
Monsters & Aliens
Dinozaur | Gudon | Birdon | Miclas | Cherubim | Dinozaur II | Sadola | Twin Tail | Bogar | Rimu Eleking | Alien Fanton | C-Pin 929 | Bogarmons | Dinozaur III | Windom | Dinozaur Reverse | Kodaigon | Mukadender | Insectus | Gromite | Zamsher | Alien Magma | Alien Valky | Saramandora | Bemstar | Daigarugu | Arstron | Cherubim II | Lesser Bogar | Chronorm | Alien Angel | Yapool | Fire Windom | Vakishim | Doragory | Verokron | Marquette Zetton | Ultraman Mebius (Marquette) | Nova | Maquette Nova | Imperializer | Roberuga | Alien Mates | Zoa Muruchi | Femigon | Alien Reflect | Alien Babarue | Angross | Alien Psychokino | Jasyuline | Arigera | Alien Serpent | Sorichra | Sorichran | Roberuga II | Hoe | Gomora | Mysterious Saucer fleet | Gadiba | Red King | Mebius Killer | Giant Yapool | Deathrem | Lunaticks | Grozam | Alien Mefilas | Gromite II | Mass Production Imperializer | Alien Empera
Side stories
2007 Ultraman Mebius Gaiden: Hikari Saga
Hikari Saga - Orb's Tragedy
Hikari Saga - A Warrior's Training
Hikari Saga - Return Of Light
2008 Ultraman Mebius Gaiden: Armored Darkness
Stage 1 - Destructive Legacy
Stage 2 - The Wicked Immortal Armor
2009 Ultraman Mebius Gaiden: Ghost Rebirth
Stage 1 - Graveyard of Darkness
Stage 2 - Emperor of Resurrection
Soundtracks
Cast
Guest Cast
Voice actors
Reception
The show currently hold a positive 9.3 rating in IMDB.
Songs
Opening theme
Insert songs
"Run through! ~ Wandaba" CREW GUYS '"

Lyrics: Mitsuda Kazuho
Composer-arranger: Fuyuki Toru
Performer: Project DMM with TMC
"Theme of Radiance~ Ultraman Hikari" (Episode 11 or later)

Music and Lyrics: Hideaki Takatori
Arrangement: Kagoshima HiroshiAkira
Performer: Project DMM
"Vows to you" (Episode 35)

Lyrics, Arrangement: Daimon Kazuya
Performer: Project DMM
"Ultra Miracle" (the first 37 episodes later)

Lyrics, Arrangement: Daimon Kazuya
Performer: Project DMM
Film tie-ins
A theatrical film, entitled Ultraman Mebius & Ultraman Brothers, was released in Japan on September 16, 2006. It takes place sometime after the end of episode 15 ("Phoenix Stronghold"), and is referenced in episode 24 ("The Return of Yapool").
DVD Box Sets
Ultraman Mebius Complete DVD Box features all episodes and has two DVDs.
External links