Unexpected Reunion (予期せぬ再会 Yoki Senu Saikai?) is the 10th episode of Ultra Galaxy Mega Monster Battle.
Mega Monster Battle File
Edit
Oki: Mega Monster Battle File! Today's monster is Nova!
Kumano: No, let's talk about the strongest robot of all! The Space Robot King Joe Black. He may not look it at first glance, but his body is overwhelmingly tough. He can shoot a powerful destructive beam from his right arm. He has many other strong abilities, too! He truly is the most powerful robot.
Oki: Please! At least say something about the Pedanian. I did so much research on it!
Kumano: Well, see you next time!
Oki: 'Til next time!
Suit actors
Edit
Ordinary Monsters
Edit
Reionyx Monsters
Edit
DVD Release
Edit
Ultra Galaxy Mega Monster Battle Volume 6 Features episodes 10-11.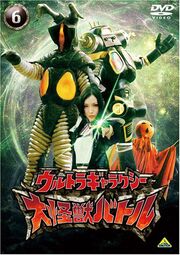 Ad blocker interference detected!
Wikia is a free-to-use site that makes money from advertising. We have a modified experience for viewers using ad blockers

Wikia is not accessible if you've made further modifications. Remove the custom ad blocker rule(s) and the page will load as expected.