Saturday, June 26, 2010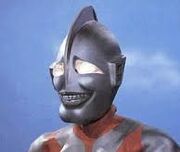 Ultraman and daily Do you know what are the activities undertaken by Ultraman and his extended family when not eradicate the monsters of the earth? Bored?? it did not. Ultraman also has several regular activities which they often do besides killing monsters ... do not believe? please see the article by this one ...
Ad blocker interference detected!
Wikia is a free-to-use site that makes money from advertising. We have a modified experience for viewers using ad blockers

Wikia is not accessible if you've made further modifications. Remove the custom ad blocker rule(s) and the page will load as expected.