(Edit: "Should Ultraman Ginga Victory have his own page?")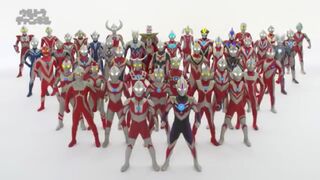 Ultraman Ginga Victory is a fusion between Ultraman Ginga & Ultraman Victory using the Ultra Fusion Brace & the Victory Lancer. Because of his design, he is considered a new form for Ginga with the powers of Ultraman Victory. But Tsuburaya thinks otherwise. In the finale of Shin Ultraman Retsuden, All of the official Ultras are shown, but there is one problem. Ginga Victory is separate from Ginga & Victory, just like how Legend & Saga are separate from their components. Shin Ultraman Retsuden is not the only one to do that. Tsuburaya celebrated Ultraman Day by doing the same thing, and GingaVictory is still a separate character. This can cause a ruckus if a person wants accurate information. It's up to you guys if he will have a separate page.
Ad blocker interference detected!
Wikia is a free-to-use site that makes money from advertising. We have a modified experience for viewers using ad blockers

Wikia is not accessible if you've made further modifications. Remove the custom ad blocker rule(s) and the page will load as expected.