Okay, now I have not managed to obtain a Switch yet due to not having enough money, but I have decided to browse the internet for some tips on what to do in Breath of the Wild.
Reason being is this is hands down probably one of the hardest Zelda games ever, so I want to be prepared for whatever happens in there.
Luckily, there are some videos telling about tips and tricks to use in there, and hidden mechanics that aren't even covered in the game's manual. So I believe I will share them with you.
First, the importance of cooking.
Next, 11 mechanics that the game's manual doesn't even cover.
And finally, 7 classic Zelda traditions that Breath of the Wild has broken.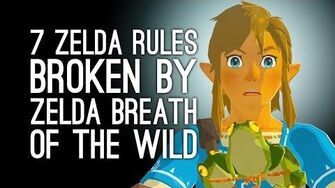 Yeah, Nintendo wasn't kidding when they said that for this game, we should forget everything we know about the Zelda franchise. This game is one where almost every rule we know no longer applies.
Ad blocker interference detected!
Wikia is a free-to-use site that makes money from advertising. We have a modified experience for viewers using ad blockers

Wikia is not accessible if you've made further modifications. Remove the custom ad blocker rule(s) and the page will load as expected.