I am reviewing Ultraman's Pestar, from Bandai.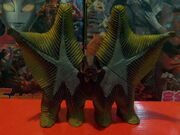 This guy is a pretty unique kaiju because he actually needs two suit actors to play. His fight was too short though...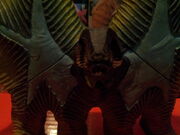 Anyway, this figure has great detail(they bothered to paint his tiny teeth). The scaling is not so good though, he's only 4 inches, goes better with the spark doll Ultraman. Supposed to only have one point of articulation in the head but the two glue seals at the sides were already broken so he has three now. It is kind of rare I think? but I got it for a good price at a flea market.
Ad blocker interference detected!
Wikia is a free-to-use site that makes money from advertising. We have a modified experience for viewers using ad blockers

Wikia is not accessible if you've made further modifications. Remove the custom ad blocker rule(s) and the page will load as expected.