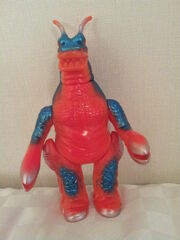 The Bullmark, M1 Yadokarin, a "Hyper Hobby Exclusive"... I got him for 2000 yen which is pretty good for Bullmarks. He is moulded in red vinyl with some blue spray and a yellow back....obviously not accurate but that's what's nice about these guys. The arms, legs and head rotate.
I realised he did not come with his the MAT base! His eyes and teeth were also unpainted. I figured he could have been rejected before it reached the "small details" painting stage. Since the seller also had a TON of Hipporitos, maybe he bought the stuffs straight from the factory? I have no idea. I searched for pics of it and there were NO similar Yadokarins....
Ad blocker interference detected!
Wikia is a free-to-use site that makes money from advertising. We have a modified experience for viewers using ad blockers

Wikia is not accessible if you've made further modifications. Remove the custom ad blocker rule(s) and the page will load as expected.