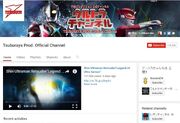 Tsuburaya Prod. has started to upload official Redman episodes on Youtube. If you're a subscriber, you can get to watch the new videos first but they will make the Private videos public eventually anyway. (Somehow, Episode 2 which was already made public, is now a private video again) https://www.youtube.com/watch?v=DUp1zim_GqQ&list=PLwDaeL3aOb-x8wxSdbJvG0zOPGYLGz0tD
Ad blocker interference detected!
Wikia is a free-to-use site that makes money from advertising. We have a modified experience for viewers using ad blockers

Wikia is not accessible if you've made further modifications. Remove the custom ad blocker rule(s) and the page will load as expected.