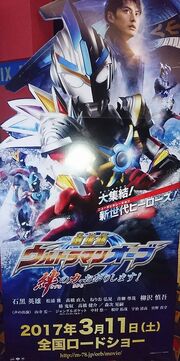 Based on the poster shown, here's are the list of voice actors, but for those who are already associated to the Ultra Series, I gave them several of their past roles to be noteworthy of:
Since we have an Alien Gapia, Alien Guts, Alien Temperor and Alien Hipporito, its up to you to think of it.
Also, since the Jungle Pocket is a three people group, they can't be considered as a Manzai (Boke-Tsukkomi pair comedians).
Ad blocker interference detected!
Wikia is a free-to-use site that makes money from advertising. We have a modified experience for viewers using ad blockers

Wikia is not accessible if you've made further modifications. Remove the custom ad blocker rule(s) and the page will load as expected.