Hey guys, SolZen here, this blog is going to be short since I don't have a lot to talk about. From what I've heard the next half of Ultraman Ginga has a poster out, take a look.
From what I can tell those are the
Ultraman
and
Ultraseven Geist
suits, created for stage shows. Personally I would've liked to see the Chaosroid suits, but I'm not complaining. Also, there's
Jashrin
...like anyone cares but just incase you missed him.
SolZen321 (talk) 13:55, October 26, 2013 (UTC)
Hey guys, some more news this is another scan I recently found for Ginga.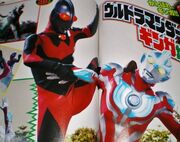 Ad blocker interference detected!
Wikia is a free-to-use site that makes money from advertising. We have a modified experience for viewers using ad blockers

Wikia is not accessible if you've made further modifications. Remove the custom ad blocker rule(s) and the page will load as expected.