So appearantly Ginga is going to have a movie called Ultraman Ginga: Gekijou Special. I read this over at Nihon Hero facebook/youtube. There is is state that Hikaru will transform into Ultraman Tiga and Riko (from Ultraman Nexus) would appear as the Dark Dummy Spark user of Dark Zagi. Let be clear, I do not know the validity of this info, I am just regurgitating what I read.
Assuming this is true what do you guys think...?
Also what may be a clearer image of the Ultraman Ginga Villain.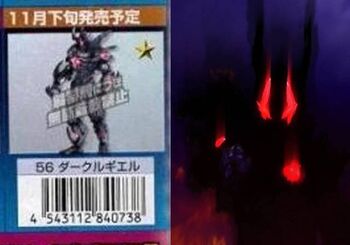 Not sure about this one either, it seems most likely that this is a concept desgin.
Warning the following may contain spoilers!
Update
So I just went to Scifi Japan and it read that the movie would be called the Theater Special and would recap the first six episodes before the airing of the last six. Also Ginga is suppose to fight Tyrant. Given that this article is much older than Nihon Hero's I don't know if the film's plan was changed or if one of them is wrong. Chances are both are right to some degree and the Nihon Hero article is talking about the part of the movie that recaps the first six episodes.
SolZen321 (talk) 02:15, August 19, 2013 (UTC)
New information about the movie states that Hikaru will transform into Tiga to fight Tyrant, Alien Icarus will be Dark Lugeil's new servant after the fall of Alien Valky. He will appearantly steal all of Hikaru's spark dolls forcing him to use his newest discover Dark Zagi, however after winning his fight he goes berserk.
He will most likely fight Jean-Nine. Given the images of Ginga using Ginga Fireball, Hikaru will appearantly fight Dark Zagi. My theory is after he is freed from Zagi, the spark doll is recovered by Riko who use it to transform.
Ad blocker interference detected!
Wikia is a free-to-use site that makes money from advertising. We have a modified experience for viewers using ad blockers

Wikia is not accessible if you've made further modifications. Remove the custom ad blocker rule(s) and the page will load as expected.