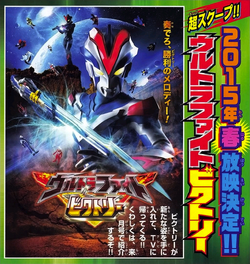 So Victory is getting his own Ultra Fight spin-off like Zero did, and also just like Zero, Victory is getting a new form.
Video is from the
日本ヒーロー ~ Nihon Hero
so be sure to check them out if you haven't already.
New video by
Nihon
, check it out!
This in just now: [1]!
Nihon Hero confirms Ultraman Hikari will appear in Ultra Fight Victory. Check it out
Ad blocker interference detected!
Wikia is a free-to-use site that makes money from advertising. We have a modified experience for viewers using ad blockers

Wikia is not accessible if you've made further modifications. Remove the custom ad blocker rule(s) and the page will load as expected.