A particular ToyDev who goes by the name of 'TheGODBEAST' has been releasing a line of insectoid buildable figures using the Glyos system. In standard Glyos fashion, his toys can be purchased from his website in multiple colors, but every so often he releases exclusive colors that have to bought on the spot and almost right away before they're gone for good.
One such release was this very familiar colored Kabuto Mushi figure. Aptly titled 'Rider Mushi' went on sale Dec 14 along with other homage paying Mushis and sold out almost right away.
But today he has just released another three unique colors for purchase...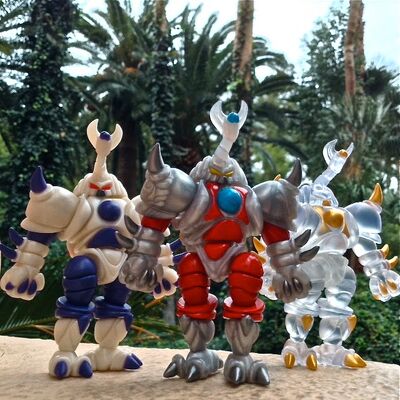 From left to right; Glactic Emperor Mushi, Ultra Mushi, and Cyborg Mushi. Sans the Emperor Mushi, all are listed as 'No Limit.' Either this means the stock is unlimited, or customers can buy as many as they like without any limitations applied.
I have to admit, I am VERY tempted to blow money on one of these. Each can be purchased from the GODBEAST's store, hosted on BlogSpot, for US$16 each. These are 'designer toys', so perhaps the plastic:price ratio might seem very lopsided to the average toy-buyer.
But I have a feeling Toku fans are already used to shopping for big-priced toys...
Pictures copyright GODBEAST/Marty Hansen.
Ad blocker interference detected!
Wikia is a free-to-use site that makes money from advertising. We have a modified experience for viewers using ad blockers

Wikia is not accessible if you've made further modifications. Remove the custom ad blocker rule(s) and the page will load as expected.