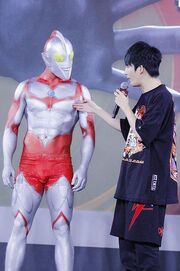 On the 10th of July, a Chinese company (Guangzhou Blue Arc Culture and Broadcasting Co., Ltd (広州藍弧文化伝播有限公司 Guǎng Zhōu lán hú wén huà yún bō yǒu xiàn gōng sī?)) hosted a live show promoting their anime movie called (Dragon Force: So Long Ultraman (钢铁飞龙之再见奥特曼 Gāng tiě fēi lóng zhī zài jiàn ào tè màn?)), whom Ultraman was supposed to guest star in, aledgely to celebrate the 50th anniversary of the Ultra Series.
Right off the bat, you can see that it's a low quality "suit", and by "suit", I mean it's just a guy with a mask and pants, and some body paint. Heck, you can even see his fingernails and toes...and something else I shouldn't say on this wiki.
Tsuburaya productions has also claimed that this is fake in an official statement they put up yesterday (19 July 2017), and was done without their permission.
Tsuburaya's statement (Google Translated):
"On July 10, 2017, in China Beijing, the Chinese company Guangzhou Aragon Culture Propagation Co., Ltd. made a production announcement of the video work "Ultraman series character" "Steel Fei Fei Ryunosu Rekishikuman".
Regarding this announcement, we do not know at all, and this video work has been produced without our permission / supervision. Also, how to use and mode of Ultraman characters in the presentation and video are severely damaged by the Ultraman brand and should be criticized as a criticism, not at all. Regarding the handling of usage rights outside Japan concerning the initial video work of the Ultraman series ("Ultra Q", "Ultraman", "Ultra Seven", "Ultra Seven", "Returning Ultraman", "Ultraman Ace" and "Ultraman Taro"), Long-term disputes continue in several countries. Nevertheless, in any judgment so far , consistently, we are authorized that we are the producers of all Ultraman series and own copyrights.
In addition, rights such as production of new works such as this video work, adaptation / modification of Ultraman series characters belong to our company only .
Based on the above, we intend to take decisive measures including legal actions against Chinese companies who made this presentation again and those involved in this video production.
We are sorry for your concern and inconvenience, we sincerely apologize for your continued patronage from our hearts as we are placed in the fans of Ultraman Series, suppliers, related parties Thank you for your consideration."
Sources:
Extras:
Ad blocker interference detected!
Wikia is a free-to-use site that makes money from advertising. We have a modified experience for viewers using ad blockers

Wikia is not accessible if you've made further modifications. Remove the custom ad blocker rule(s) and the page will load as expected.