NEW!!!
Ultra Monster Series 500 & Ultra Hero Series 500...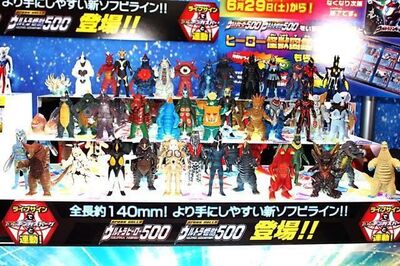 includes new monsters like: Ragon, Mochiron, Snowgon, Alien Valkie, Astromons, Hanzagiran, and much more!!!
includes new Ultraman: Ultraman Ginga (character)
the series is only 5.5 inches.. a little shorter than the 6 inch series.. i think they're going to replace the 6 inch series with this smaller series...
post your comments :)
Ad blocker interference detected!
Wikia is a free-to-use site that makes money from advertising. We have a modified experience for viewers using ad blockers

Wikia is not accessible if you've made further modifications. Remove the custom ad blocker rule(s) and the page will load as expected.