Welcome to my talk page! If you want to ask or tell me something, feel free to do it here.
Adminship
Edit
Teridax122 - Don't underestimate us:
TALK - Unlimited
Zombiejiger, at this time me and the other admins have decided to make you an Admin of he Ultraman wiki. I know you've asked for this before and it's been a long wait, so to the patrol. Now of coarse there are some things I would like you to know so I have a collection of links to articles that

I think do a great job at explaining what an Admin should be, but please take these words to heart; "Don't get annoyed if you find some bad articles. Wikias are works in progress; please tolerate our imperfection, and help us improve. There are a lot of smart people editing Wikia communities, and everyone finds they have something to contribute. The best response to a bad page is to fix it!"

"When a well-meaning person takes an action you disagree with, you should always start with a message on their user talk page or wall. Never go straight to blocking them or deleting or protecting a page—and never use admin tools or stature just to get your way in a disagreement. Remember that every action on a wikia can be undone, and letting an unwanted edit or page sit for a short time while you talk with the user and wait for their reply is not a terrible thing."

I hope you got all that, the links I mentioned before are below.
| | |
| --- | --- |
| | |
Vandalism
Edit
Hello, I'd just like to report a series of vandalistic edits on the Ultraman Nice (character) page, especially since they used extremely harsh language, and one went unnoticed and stayed on the page for a few days. The other three were removed by the vandal himself.
Ghidorahnumber1 (talk) 02:13, November 27, 2015 (UTC)
Is Yoda a Muppet?
Edit
I personally consider Yoda a Muppet
What do you think? RyanBurns1988 (talk) 04:49, November 29, 2015 (UTC)
Just simply wondering
Edit
Is Jirass a dinosaur? --RyanBurns1988 (talk) 22:19, December 8, 2015 (UTC)
Is the Rancor a muppet?
Edit
I heard he was. Is this true? --RyanBurns1988 (talk) 01:08, December 15, 2015 (UTC)
Star Wars multiverse  vs Star Trek multiverse
Edit
i personally think star wars wins. what do you think? RyanBurns1988 (talk) 06:23, December 25, 2015 (UTC)
DINOSAURS
Edit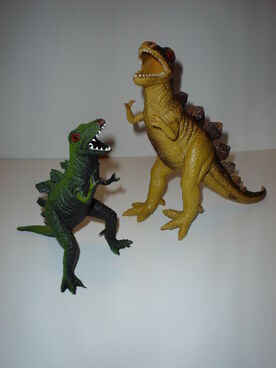 --RyanBurns1988 (talk) 00:51, January 6, 2016 (UTC)
Muhammad Amir - We've only planned, but fate is unpredictable!:
TALK - Limited
Of course, G1 Bionicle sets are way bigger since at that time, fuel hikes are not much of a problem until 2010. G2 sets were way smaller in comparison. I envy you though, my parents still disapproves me for buying toys despite I have enough money...
Hey, how are you these days? It's been a while, and I'm not really sure if you remember me. We talked a little bit, a while ago. And congratulations on becoming an administrator!