Worlds from the Heart-FInal Trilogy III- is the fifty and final episode of Ultraman Mebius
Summary
With Ultraman Mebius and Hikari incapitated, Earth is set for destruction. But the light of hope in humans have not vanished yet. This is the final battle with Alien Empera!
Synopsis
To be added
Cast
to be added
DVD Release
Ultraman Mebius Volume 13 features episode 48-50.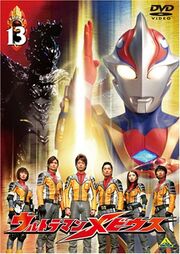 Trivia
This is the first episode where we see Zoffy's rise.
Mirai also transforms into Mebius via force of will, the only time he does so.
This episode was later featured in New Ultraman Retsuden episode 154, Take Flight, Mebius! Words from the Heart.