"Ultraman X, power up."

―Summoning announcement via X Devizer
The Xlugger (エクスラッガー Ekusuraggā?) is the main weapon of Ultraman Exceed X. It is stored with in the coding of the Exceed X Spark Doll.
History
Ultraman X
When Ultraman X was almost killed by Tsurugi Demaaga, the defeated ultra crusader's consciousness was trapped in cyber space, slowly dying. Daichi Ozora sent his own conscious into cyber space, with the help of Dr. Guruman, to rescue X. While searching for his friend, Daichi was lead by a rainbow in cyber space to the Xlugger. When Daichi took the Xlugger, he and X were reunited in the real world and X was given the powers of Exceed X.
The Xlugger finally took the form of Ultraman Exceed X's Spark Doll, ready to be utilized again when needed.
During the final episode, it was revealed to have been first found by Daichi's mother. She had previously been unable to receive any radio signals from the future, causing her to believe that in the future, something would wipe out all life on Earth. However, she started picking up faint signals from the Xlugger, indicating to her that it would have an impact on the future.
Abilities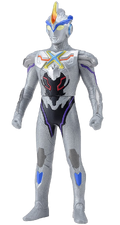 The Xlugger is a crest weapon that is kept on Ultraman X's forehead. When put to use in combat the Xlugger extends in length to resemble a Ultra-sized short sword and is capable of dealing several energy attacks.
Gallery
Trivia
Just like the Knight Timbre, both are swords with the ability to grant their user second forms and assumed a Spark Doll appearance when in standby modes.
The original design for the Xlugger was to contain all seven colors of the rainbow, but this was impossible to incorporate onto X's head.