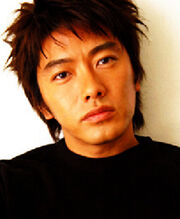 Yusuke Kirishima (桐島優介 Kirishima Yusuke?), born January 7, 1977 in Miyazaki Prefecture, Japan is a Japanese actor. In the Ultraman Series, he is very well known for his role as Jun Himeya, the 2rd dunamist of Ultraman Nexus.
External Links
Edit
Ad blocker interference detected!
Wikia is a free-to-use site that makes money from advertising. We have a modified experience for viewers using ad blockers

Wikia is not accessible if you've made further modifications. Remove the custom ad blocker rule(s) and the page will load as expected.