The Zenshin Crystals (全身のクリスタル Zenshin no Kurisutaru? lit. "Full Body Crystals") are several crystals that appear on Ultraman Ginga's, chest and limbs. They are similar to light crystals, seen on other Ultras.
In some of Ultraman Orb's fusion up forms, Orb also possess Zenshin Crystals on the same places as Ginga do.
Powers
Plasma Energy Manipulation: The crystals appear to only be used for manipulating large amounts of plasma energy quickly. This manipulation is for the use of techniques such as beams, fireballs, bolts of electricity, blades of energy etc.
Ultras with this feature
Ultraman Orb

Orb Trinity
Lightning Attacker
Mebium Especially
Variations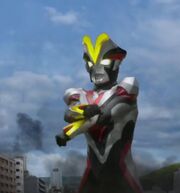 V Crystals (Vクリスタル

Bui Kurisutaru

?

): A somewhat close variation to the Zenshin Crystal, this one is sported by Ultraman Victory. Unlike Ginga, Victory is empowered by Victorium instead of plasma and the crystal barely changes its color, only did so when he transforms into Victory Knight turning from yellow to red.
Gallery